Melodyman: As stated earlier, if you add characters to a level you need to change these numbers in the BINACJBOCharacter.oni file.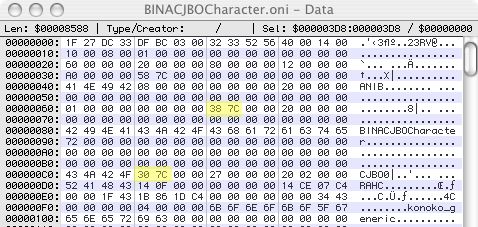 38 7C is the size of the part in the raw/sep file in bytes (31800)
30 7C is the size of the complete collection from this postion in bytes (31792)
However, for my modified level 19 file, the numbers in hex are:
8CDC and 84DC
To convert to decimal switch the pair of numbers 8CDC becomes DC8C, then use a hex to decimal converter http://www.easycalculation.com/hex-converter.php you get the number 56460.  The same for the other number.
For the first location (8CDC) you have 56460 and the second location (84DC) 56452.
For each character you add, you need to increase the number by 548. So let's say you add 2 more characters, that's 548x2 or 1096.
Do the math: 56460+1096 = 57556 and 56452+1096 = 57548.
To convert these numbers to hex: http://www.easycalculation.com/decimal-converter.php
57556 becomes E0D4, 57548 becomes E0CC
To use them in Oni, again switch the pair of numbers E0D4 to D4E0 and E0CC to CCE0
Finally, replace 8CDC with D4E0 and 84DC with CCE0
Save the changes, recompile the level and you should have the new characters available.
Note: This is how I do it.  If there is an easier way, please post it.
Also, for Mac users, I use this application: http://www.toast442.org/hextoaster/
Hopefully, there's no typo in my instructions
Last edited by EdT (7/2/08 20:12)